Each year, the league welcomes new faces to the NHL. In recent years, we have seen Sidney Crosby, Bobby Ryan, Carey Price, Alex Ovechkin, Evgeni Malkin, Jeff Skinner and many more young guns break onto the scene. This year is no exception, with some big names like Ryan Nugent-Hopkins and Brayden Schenn.
Ryan Johansen (Columbus Blue Jackets): Johansen was seen as the long term number one center for Rick Nash until Jeff Carter and his 11 year contract was traded to the Blue Jackets. He had a great world junior championship for Team Canada in 2011, with 9 points in 7 games, and at times Ryan was the best player on the ice. The 4th overall pick in 2010 shouldn't have trouble becoming an elite 2 way goal scorer, and could easily be good for 70+ points every season.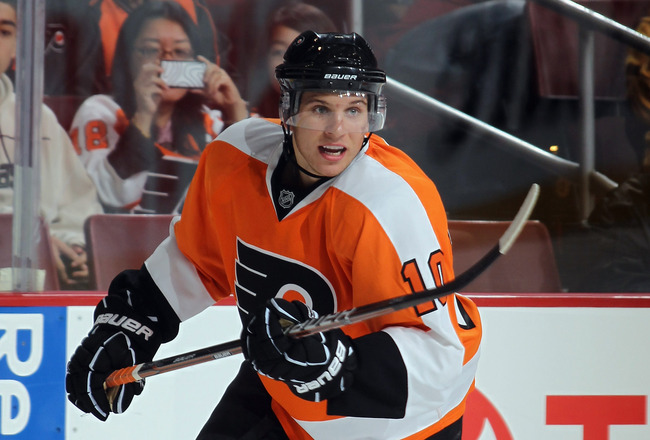 Brayden Schenn (Philadelphia Flyers): The Flyers liked him enough to send Mike Richards packing to LA, yet he still didn't make the big club. Easily the top prospect in the league, and brother to Toronto Maple Leafs defenceman Luke Schenn, he has the skill set of an NHL superstar. He tied a Canadian Record at the World Juniors with 18 markers in one tournament. He was part of the biggest trade in WHL history. Schenn, Playing for the Brandon Wheat Kings at the time, was traded to the Saskatoon Blades for the players Saskatoon choose in the  first and second round of the 2010 bantam draft, their first two picks in 2011 and the first pick in both the bantam and import drafts in 2012. He didn't make the team out of training camp because of salary cap issues (he will be making ($3.5M), but should be playing on their top 2 lines.
Ryan Ellis (Nashville Predators): If he wasn't on Nashville, he would have been in the NHL by now. He has great leadership skills, as shown by being Captain of the Windsor Spitfires and the Canadian World Junior squad. He puts up forward-like numbers that rivals Mike Green or Dan Boyle. For a defenceman, he is extremley small (5 ft 10, 179 pounds), but still plays a physical game.Ellis has an outstanding shot from the point and is consistently able to jump-start the offense with a well-timed pass or breakout through the defensive zone. He has also worked on his defensive abilities (plus-52) and has drawn praise for his effort. With Nashville's strong defense, there was no room for Ellis, so the Predators sent him down to Milwaukee of the AHL.
Robin Lehner (Ottawa Senators): Last year, it was believed Lehner would be the starting goalie for Ottawa in 2011-2012, but with acquisitions of Alex Auld and Craig Anderson, this wont be the case. Last year he led the Binghamton Senators to the Calder Cup finals, and won it all, earning MVP honors. His WJC performance for the 4th place team Sweden was just average, not at all what Sweden or Ottawa was looking for. A butterfly goalie with excellent size and good overall skills, Lehner uses his big frame to his advantage and challenges the shooters, although perhaps not with the desired consistency. Playing for Ottawa won't ever help your stats.
Patrice Cormier (Winnipeg Jets): Cormier was part of the deal that sent superstar Ilya Kovalchuk to the Devils. The Jets prospect is a solid 2 way forward who can also crush you into next week. His take no prisoners approach mixed with his ability to score will likely get him a spot on the 3rd line. While Cormier may not be the most naturally gifted player, he's a well-rounded a prospect. He forechecks aggressively, throwing his weight around and will use force to get to the front of the net with the puck to create offense. He works hard at both ends of the rink and is a contributor on both the power play and penalty kill.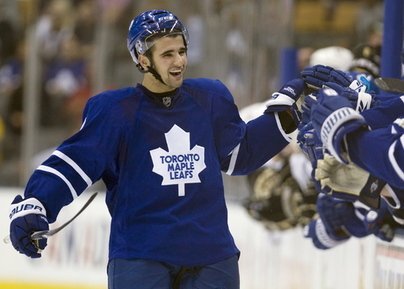 Nazem Kadri (Toronto Maple Leafs): The Leafs hope he will develop into a top line center for Phil Kessel. He didn't score in his first 17 games with the Leafs, which got him demoted to the AHL. He is inconsistent at times, and turns over the puck too much. Ron Wilson has criticized his play multiple times and has benched him to teach him a lesson. He has great hands that could be the reason he makes the NHL, with talent that would put him with the big boys. Kadri is a highly skilled forward who can make plays at a whim in the offensive zone. He's fearless on the ice which compensates for his small frame.  While there are questions surrounding his game-to-game compete level and some of his decision making, his positives outweigh those negatives, which, obviously, is a plus.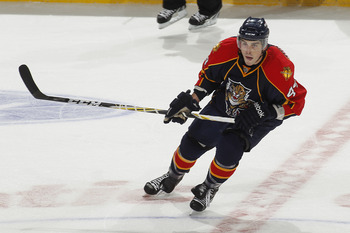 Erik Gudbranson (Florida Panthers): The third overall pick in the 2010 draft, Gudbranson is one of the Panthers future stars. After a strong training camp in 2010, it looked as though he made the team. But Gudbranson and Florida could not come to terms on a contract and was sent to Kingston of the OHL. But he did eventually sign a contract, and after a strong 2011 training camp, Erik made the team. He has great size, physicality and leadership qualities and can play a shutdown role with aplomb. Displays all-around potential, meaning he can play any role on defense he is asked to do. He had a strong 2011 WJC.
Cody Hodgson (Vancouver Canucks): Formerly one of the best players in Junior Hockey, Hodgson has had a tough few years trying to crack the NHL. He lost the entire 2009-2010 season to a back injury, then broke his orbital bone. His speed lacks, but has great hockey sense and has played well in the games that he was called up for. Hodgson is a solid all around talent.  He does not possess blinding speed, or flashy moves, but he tends to get the job done.  He has developed into a fine two-way player, and with Sedin and Kesler playing on the top 2 lines, he will likely be a third line forward during his stay with Vancouver.
Jacob Markstrom (Florida Panthers)-With Tomas Vokoun gone, he has the chance to show he can be a legitimate NHL goaltender. He had a tough season last year on a weak Rochester squad, and playing with Florida will never help you stats. Jose Theodore will be the starting goalie this year, unless Markstrom outplays him. An injury to Scott Clemenson handed Markstrom an NHL backup job, and if Theodore is inconsistent, which he has proved he can be at times, Markstrom can easily take over and be a top goaltender in the league, but he's only 21, so he has some time to develop.
Tomorrow I will post part 2 of my NHL Rookie Report. Follow me on twitter, @StevenEllisNHL, for all Hockey news and updates.